In the Pacific Ocean, at northwest of Tahiti, you can find the most beautiful place on earth called Bora Bora. This stunning place is an exclusive and enchanting small island in the French Polynesia and is the number 1 tourist destination. There is no better than this.
The place is well known for its clear blue waters, white sands and over-water bungalows and undeniably is "the" paradise on earth. It is popular as a holiday destination because of the rich marine life it contains: sting rays, blue marlins, barracudas and several types of turtles.
The island is well known for its scuba divers who can explore the depths of the lagoon, a favorite tourist destination. While in Bora Bora you will find yourself enjoying the white sandy beaches, lush green surrounding forest, the Art du Pacific and the Mount Otemanu.
When you go to Bora Bora you want to make it as unforgettable as possible because is not a place where you can go often. The reason for that is its far away location. As pricing, Bora Bora you can make it as expensive as you like. You can start from 100$/night up to 1000$/night.
When you pay 1000$/night, be sure you will get the crème de la crème experience.
Read also: Phuket Beaches: 6 Best Beaches not to miss while in Thailand
Four seasons is well known all over the world for its luxurious hotels and excellence. And also in Bora Bora, Four Season stand up to its name and reputation.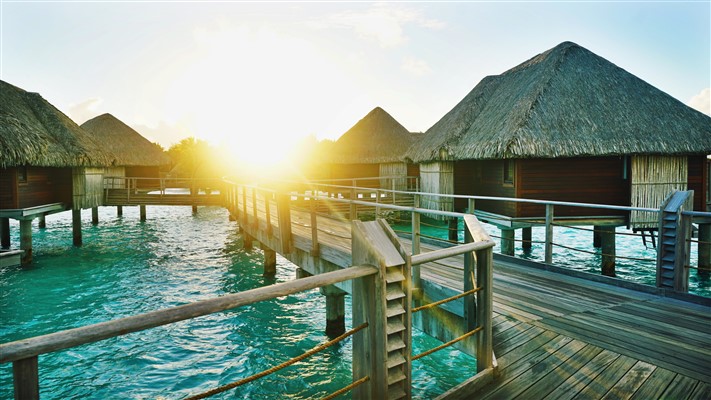 From the moment you arrive and the moment you leave, you are treated like royalty. The first class facilities, the location and the views makes this resort the perfect place on the island. Has been described by its guests as "flawless".
Imagine how it is being able as soon as you woke up to jump in the water from your balcony. Having dinner on your terrace room watching the waves crushing on your bungalow and the small sharks swimming by. This is Bora Bora. There you can do this kind of stuff where nowhere else in the world is possible.
Recommended article: How to treat sunburn fast
The Four Seasons Bora Bora resort's bungalows are breathtaking. The rooms are spacious and well fitted and with the deck's access direct into the stunning lagoons.
The impeccable service of Four Seasons, makes its guests praise the resort with high compliments.
The beach lounge service is more than fantastic; a must have in any beach vacation.
BOOK HERE STAY AT  FOUR SEASONS RESORT, BORA BORA
At the Four Seasons Bora Bora resort you will find all kinds of activities to fill in your days. Fascinating snorkeling, kids friendly activities, kayaking and more will make your days seem minutes.
Although is pricey, as soon as you check in you will not care about the price anymore. It's worth every penny.
Read also: Wheat Boutique expands with a fifth luxurious location in the Caribbean