Mini crossbody bags are perfect for keeping your valuables safe while remaining stylish. The Tessel crossbody is a great option, with personalization options that make it unique to you.
Clear crossbody bags are a trendy and practical option, especially when attending events. The Steve Madden clear crossbody is stadium-approved, with a removable crossbody strap for convenience.
Luxury/designer crossbody bags are a stylish choice for traveling, with the Strathberry East/West Mini offering an adjustable chain strap and the Kate Spade Harlow featuring a streamlined design.
Anti-theft crossbody bags offer added security for your valuables. The Travelon anti-theft crossbody has an interlocking mesh barrier and hidden steel cable to deter theft. It also features RFID-blocking pockets and is water-resistant.
Crossbody travel purses like the Fawn Circle Bag and Away messenger bag offer multiple pockets and adjustable straps for comfort during long days of exploration. The Lululemon Roll-Top Crossbody Bag features an ultra-secure zipper and roll-and-clip enclosure to ensure your belongings stay safe and dry.
A stylish and versatile accessory, the Pisil capsule crossbody is a must-have for any fashion-conscious traveler. This mini crossbody bag comes in a range of colors and features a sleek design that can hold all your essentials while keeping your hands free. The adjustable strap ensures a customized fit, making it comfortable to wear all day long.
Additionally, the Pisil capsule crossbody is made from sustainable materials, making it an eco-friendly choice for travelers who want to reduce their carbon footprint. It is perfect for those on the go, whether you're exploring a new city or heading to the airport.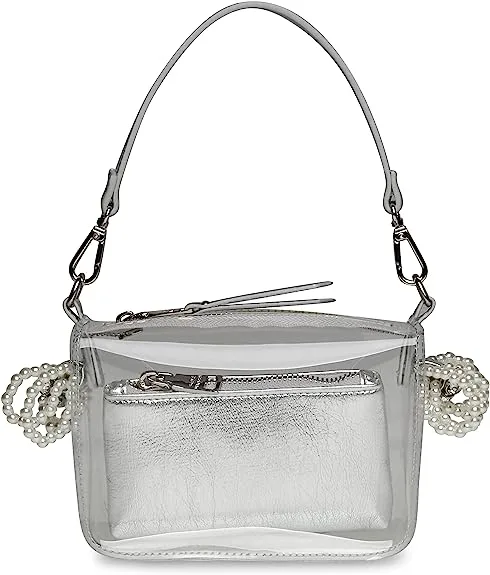 The elegantly designed Steve Madden transparent crossbody bag is the perfect accessory for keeping your valuables safe while on the go.
Stadium and event-approved, that offers peace of mind
Featuring an easily adjustable, removable shoulder strap with a 24-inch drop.
The see-through design enables you to display your style
Made from clear PVC material which makes it easier to spot and also wipes off clean.
The base is reinforced well enough for carrying around essentials such as mobiles, wallets, glasses
An affordable and fashionable way to abide by security regulations.
Besides these features, the Steve Madden Clear Crossbody is also great when exploring the city or walking through a park. Its durable material and beautiful design make it perfect for everyday use. This stunning crossbody bag has been a popular bestseller among fashion lovers over recent years due to its sleek, innovative appeal.
With the Michael Kors, you will have a luxury designer crossbody bag that is stylishly chic and effortlessly versatile. The adjustable chain strap adds sophistication to your attire, and the streamlined design allows you to carry all your essentials with ease. Available in 11 colors to make sure would fit any outfit.
This mini crossbody bag has not only been crafted from premium materials but also reflects meticulous workmanship. With its small size and top handle, it can be carried as a clutch, while the chain strap allows for elegant wear across the body.
A fashion-conscious friend of mine was recently on holiday in Paris and noted how Michael Kors complemented her travel fashion ensemble in a classy and sophisticated manner. Get ready to elevate your crossbody game with these adjustable chain straps that can transform your purse into a stylish necklace.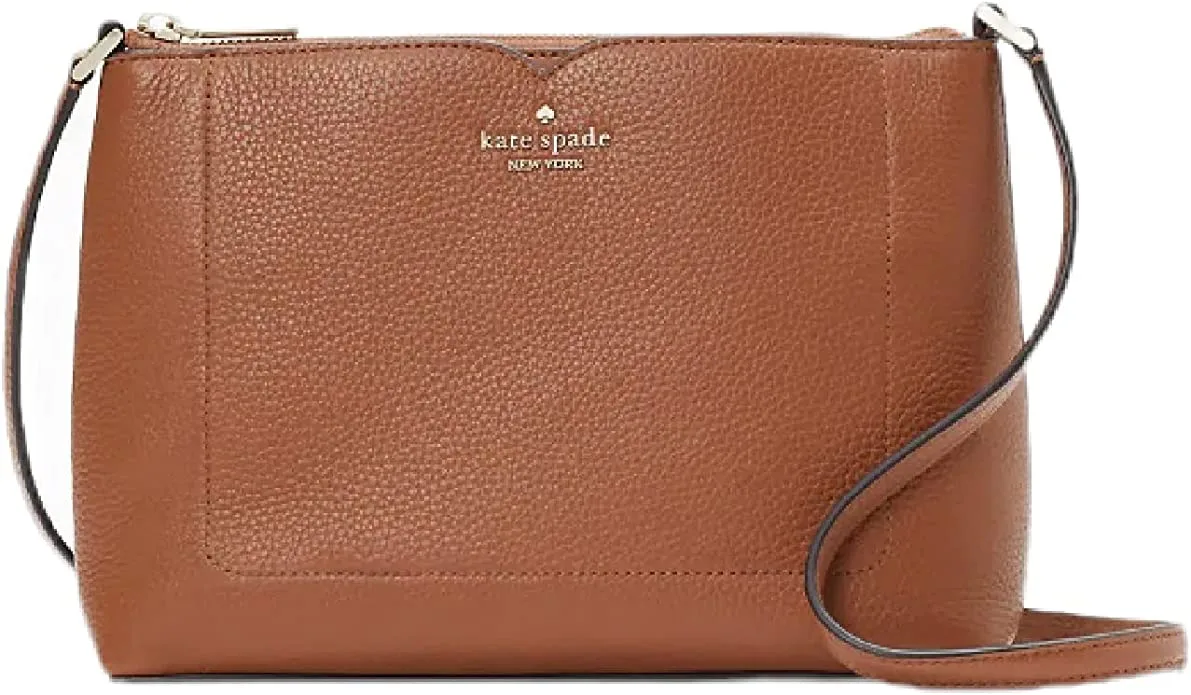 The luxurious and stylish Kate Spade Harlow crossbody bag is a must-have for fashion-conscious travelers. With its streamlined design, adjustable strap, and durable construction, it's perfect for keeping your valuables safe and secure while on the go.
In addition to its functional features, the Kate Spade Harlow also boasts elegant details such as gold-tone hardware and a beautiful saffiano leather finish.
One unique detail of the Kate Spade Harlow is its spacious interior, which features 1 big pocket for storing everything from your phone and wallet to your passport and travel documents. The bag is also available in several chic colors that are sure to complement any outfit or personal style.
For those who prioritize both aesthetics and security while on the move, the Kate Spade Harlow is a top choice. Its understated elegance and functionality make it an excellent investment piece that you won't want to travel without. Don't miss out on the opportunity to elevate your travel game with this stunning crossbody bag by kate spade harlow.
This crossbody bag is designed to keep your belongings safe from theft when traveling. It features innovative anti-theft technology to ensure that your possessions are secure.
Interlocking mesh barrier and hidden steel cable
RFID-blocking pockets
Water-resistant material
Adjustable shoulder strap for comfortable carrying
Multiple compartments for organized packing
One unique detail about this Travelon anti-theft crossbody is that it has a removable LED light inside, making it easy to find what you need in dimly lit areas. This handy feature is perfect for exploring new cities or navigating unfamiliar spaces.
For added security, consider using a luggage lock to secure the zippers on your Travelon anti-theft crossbody bag. You can also store important documents and valuables in the RFID-blocking pockets for peace of mind while traveling.
When packing your Travelon anti-theft crossbody, be sure to distribute weight evenly and avoid overloading any one compartment. This will ensure maximum comfort and prevent strain on your shoulders and back during extended periods of wear.
Your valuables are safer in this crossbody than Fort Knox.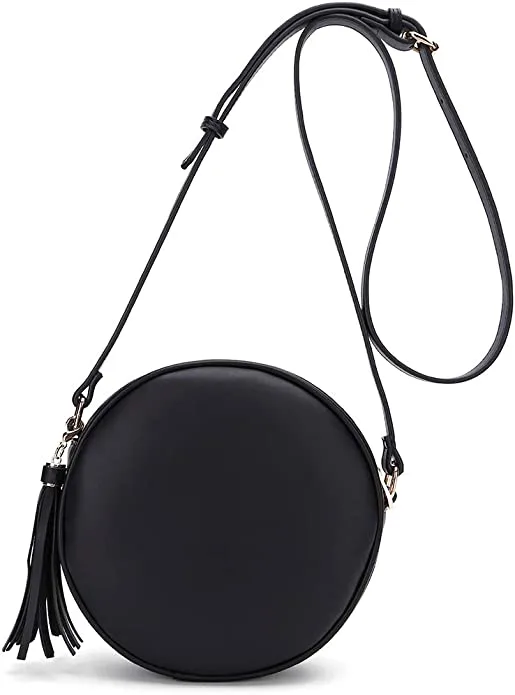 The Catmicoo Circle Bag is a stylish and functional crossbody travel purse designed to keep your valuables safe. It comes with two interior pockets and a separate back pocket for easy organization of all your essential items. The adjustable messenger strap allows you to carry it comfortably all day long, while its premium quality material ensures water-resistance and durability. The bag's design is perfect for exploring new cities or going on an adventure, making it a highly desirable accessory.
One unique feature of the Catmicoo Circle Bag is its minimalist yet trendy appearance, making it suitable for various occasions, whether casual or formal. Another standout aspect is that the bag is made from eco-friendly materials, making it sustainable and ethical. Its neutral color also makes it easy to pair with any outfit.
Finally, a bag that understands the need for designated pockets and won't let your chapstick be lost in the abyss forever.
The crossbody-style 'Roulens' bag is an excellent choice for those who seek organization and security. Designed for exploring a new city, the bag offers a sleek look and ample space to store travel essentials.
With a water-resistant material, sturdy adjustable strap, and ultra-secure zipper with roll-and-clip enclosure, the 'Roulens Crossbody Bag' guarantees safety and protection for your valuables on your next trip. Additionally, the bag features various pockets to keep your belongings organized, making it perfect for travelers of all types.
A unique detail about the 'Roulens Crossbody Bag' is that it comes in various colors with a minimalist design that compliments any outfit or personal style. The bag provides two spacious interior pockets and one separate back pocket, allowing you to organize items ranging from passports to phones easily. Furthermore, its lightweight nature makes it easy to carry around throughout your day.
Check out those luxury honeymoon spots in France
The MINTEGRA Crossbody Bag for Women is great because it's water resistant and stain resistant. We all know how annoying it can be to ruin our favorite bag because of a little rain or an accidental spill. With this bag, you don't have to worry about that! Plus, it's lightweight and easy to carry, so you don't have to worry about a bulky, heavy bag weighing you down.
It's all thanks to the special nylon material used to make the bag. This nylon is treated with a special coating that creates a water-resistant, stain-resistant barrier. It's like a little suit of armor protecting your bag from the elements.
But don't let this special material fool you. It's strong and durable, so it won't wear down easily. Plus, it's still lightweight enough to carry around without any hassle.
Read here our full review on Mintegra Cossbody Bag
Professional Insights on the Best Crossbody Bags for Secure Travel
When it comes to keeping your valuables safe on your next trip, opting for a crossbody bag can be a smart choice. These bags are designed to be worn close to your body, making it harder for pickpockets to steal your belongings. Our in-depth analysis of the 10 best crossbody bags showcases products that are both stylish and functional, with features like RFID-blocking technology, slash-proof materials, and locking zippers.
For frequent travelers, investing in a crossbody bag with anti-theft features can provide added peace of mind. Our list includes options that are suitable for various travel styles and needs, whether you're looking for a compact bag for sightseeing or a larger option for carrying all your essentials. With careful consideration of factors like durability, organization, and comfort, we've compiled a comprehensive guide to help you choose the best crossbody bag for your travels.
While all of the bags listed offer unique benefits, some stand out for their affordability, high-quality materials, or innovative features. For example, the Travelon Anti-Theft Crossbody Bag has a locking main compartment and slash-resistant body, making it a top choice for urban environments. Meanwhile, the Baggu Duck Bag offers plenty of space and a casual, versatile design that can be worn in various ways.
Don't risk losing your valuables on your next trip – invest in a secure crossbody bag today. With our expert insights and detailed product reviews, you can select a bag that meets your needs and keeps your belongings safe while you explore the world.
Some Facts About 10 Best Crossbody Bags With Keep Your Valuables Safe on Your Next Trip:
✅ Crossbody bags are a must-have for savvy travelers as they allow them to be hands-free and are harder for pickpockets to strike upon. (Source: Team Research)
✅ Crossbody bags are handy to hold all travel necessities without weighing you down as the crossbody strap evenly distributes the weight. (Source: Team Research)
✅ Clear crossbody bags are stadium- and event-approved, and they feature a chic chain strap and an interior pouch for keeping some of your belongings out of sight. (Source: Team Research)
✅ Travelon's anti-theft crossbody has all the organization details of a bigger bag minus the weight, with an interlocking mesh barrier, hidden steel cable in the strap, and RFID-blocking pockets to keep your valuables safe. (Source: Team Research)