Amsterdam offers a variety of cultural attractions, including the Moco Museum which boasts Banksy artwork and pop-art exhibitions.
The NEMO Science Museum is an excellent option for families, with interactive activities and a rooftop terrace providing stunning views.
The Albert Cuyp Market is a great place to experience the diverse cuisine of the city, with a rich history and offerings from all over the world.
At Dam Square, visitors can take in the picturesque Royal Palace, as well as the National Monument which honors lives lost in combat.
The A'dam Lookout on the 20th floor offers unparalleled 360-degree views, with dining options available at the renowned Madam and Moon restaurants.
The Verzetsmuseum offers a somber yet informative reflection on the Nazi occupation of the Netherlands, with one-of-a-kind artifacts and sound fragments.
The Stedelijk Museum Amsterdam features both permanent and temporary contemporary art exhibits, as well as a year-round exhibit on the history of pinball machines.
The interactive Heineken Experience celebrates the famous beer and offers a personalized label experience, complete with a 3D ride.
The Museum Ons' Lieve Heer Op Solder provides a glimpse into early Catholic worship practices, with a preserved church located on the top three floors of a 17th-century home.
Moco Museum
Amsterdam continues to fascinate tourists around the world, and one of the most intriguing spots to visit is the Moco Museum, which showcases contemporary art in all its splendor. The museum has two areas of focus – the iconic Banksy display that contains some of his most famous works, and the exhibition space, where rotating exhibits by edgy pop-art artists keep arriving. At Moco, every work of art tells a story and invites visitors to step into a world of imagination.
Banksy display
The Moco Museum in Amsterdam features a stunning exhibit showcasing the famed Banksy's style, with his intriguing artwork and creative designs. The collection is a remarkable demonstration of the artist's creativity and vision. Visitors can also enjoy rotating exhibits from leading pop-art artists that offer an unparalleled glimpse into contemporary artistry.
At the Banksy display, you can appreciate an extraordinary collection that showcases the artist's innovativeness and uniqueness. Through Banksy's work, visitors can witness art as a powerful tool for social commentary. At Moco Museum, you can discover similar techniques used by other pop-artists through their rotating exhibits.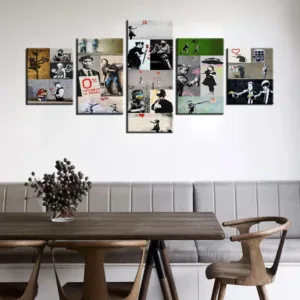 Elevate your decor with the essence of urban artistry and make a bold statement that will leave a lasting impression. Get your very own Banksy wall art today
Moco Museum is worth your visit if you're into contemporary art and want to make your trip memorable. Explore other sections of this museum to experience various unconventional art forms unique to Amsterdam's rich culture.
If you miss visiting this fantastic museum, you would miss experiencing contemporary art that has transformed many people worldwide. Don't forget to add 'Banksy display' at the Moco Museum to your list while touring Amsterdam!
Pop-art fanatics rejoice, the Moco Museum offers an ever-changing lineup of rotating exhibits that will leave you feeling inspired and entertained.
Rotating exhibits by pop-art artists
The Moco Museum features a variety of exhibits, including rotating displays by pop-art artists. These exhibits are changed regularly to ensure visitors always have access to new and exciting works of art. The museum is home to several renowned pop-art pieces from the likes of Andy Warhol and Roy Lichtenstein. In addition to these permanent fixtures, the rotating exhibits provide visitors with an opportunity to experience up-and-coming and established pop-artists from around the world.
One of the unique things about the Moco Museum's rotating exhibits by pop-art artists is that they often challenge conventional ideas about what constitutes art. Exhibits can be thought-provoking and even controversial at times as artists explore themes such as consumerism, mass media, and political issues. Each work has been carefully selected to contribute to a broader conversation about contemporary art.
For those wanting a more immersive experience, many of the exhibits are interactive in nature, allowing visitors a chance to engage with the artwork in new ways. From virtual reality experiences to sensory installations, there is something for everyone at the Moco Museum's rotating exhibits by pop-art artists.
Pro tip: Check out their website before you visit as certain exhibits may require advance booking or have limited availability.
Become a science superstar at NEMO, where the interactive exhibits will have your brain buzzing and your inner child squealing with delight!
NEMO Science Museum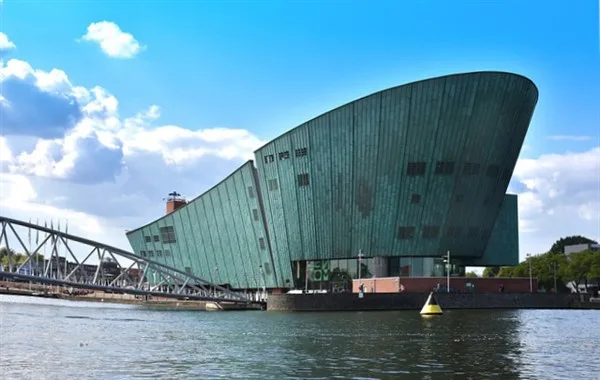 Europe has been a popular travel destination for decades, and there's no shortage of must-visit spots on the continent. However, one city stands out in my mind as the ultimate travel destination: Amsterdam.
Nestled in the heart of the city is the NEMO Science Museum, a must-see for any visitor, young or old. This museum provides an interactive experience for children, as well as adults, to learn about the history of science and exploration. Additionally, the NEMO Science Museum boasts a stunning rooftop terrace that offers panoramic views of the city.
Interactive activities for kids
With a focus on engaging the young minds, Amsterdam has some of the best interactive activities for kids to explore and enjoy. The city offers unique experiences that are both informative and fascinating for children.
At the NEMO Science Museum, kids can indulge in various exciting and educational activities that foster the exploration of science through history.
The Albert Cuyp Market is an excellent place for kids to learn about different cultures firsthand by immersing themselves in the cuisine from all over the world.
A'dam Lookout provides interactive opportunities like Europe's highest swing, Over the Edge attraction where kids could have an adrenaline rush while getting 360-degree views.
Besides these, Amsterdam has many other options for interactive activities for kids where they can learn exciting facts while having fun.
To make your trip memorable with your little ones and bring big smiles on their faces, make sure you don't miss out on any of these amazing experiences! Unleash your inner scientist and travel through time with interactive exhibits at the NEMO Science Museum.
Exploration of science through history
The NEMO Science Museum offers an interactive exploration of scientific concepts throughout history. From the origins of astronomy to modern-day computing, visitors can engage with hands-on exhibits and learn from informative displays. Kids can enjoy interactive activities while parents can appreciate the fascinating journey that science has taken over centuries.
Furthermore, the museum also has a rooftop terrace with excellent views of the city, making it a great place to relax after exploring science through history.
A unique feature is that visitors get to explore how science has developed over time through various eras and experiments. The highlights also include historical artifacts and displays that allow for first-hand insights into the evolution of scientific thought.
Visitors may be surprised to find out what profound impact science has had on society since its early days. Science has evolved from mere speculation into a key driver of civilization, enabling humanity to make unprecedented progress in all aspects of life. For instance, one display showed how scientists explored the properties of sound waves and laid the foundation for modern telecommunication technology allowing people from different parts of the world to connect like never before. Thus, NEMO provides visitors a unique opportunity to engage with science innovations through history and appreciate their effect on our daily lives.
A trip to the NEMO Science Museum's rooftop terrace will give you a view of Amsterdam that's out of this world.
Rooftop terrace with excellent views
Located at NEMO Science Museum, visitors can enjoy a stunning panoramic view of Amsterdam through the rooftop terrace with excellent views. The terrace offers more than just a scenic view as visitors can also partake in intriguing scientific experiments and interactive activities for kids. Take pictures and relax while observing Amsterdam's iconic buildings such as St. Nicholas Church and Central Station.
For an experience that goes beyond sightseeing, head to NEMO Science Museum's rooftop terrace with breathtaking views of Amsterdam. Enjoy educational activities with friends and family while taking in the city's skyline. Discover science history through cool exhibits displayed throughout the museum.
Did you know? The roof is made up of lumpy connections, giving it an appearance like close up bubbles on foam plastic.
Don't miss out on this incredible opportunity to see Amsterdam from an extraordinary perspective at NEMO Science Museum's rooftop terrace. Book now for an unforgettable experience!
Get your taste buds ready for a global journey at the Albert Cuyp Market.
Albert Cuyp Market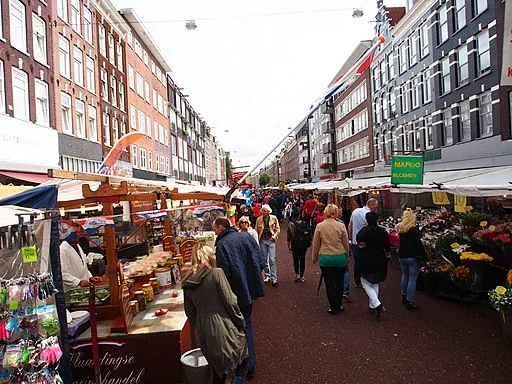 As you wander through the bustling streets of Amsterdam, you can't help but feel drawn to the vibrant atmosphere of the Albert Cuyp Market. This historic marketplace has been a beloved hub for locals and tourists alike for over 100 years. In this segment, we'll delve into the history and growth of the Albert Cuyp Market, and how it serves as a cultural melting pot of produce and cuisine from around the world. Stick around to explore the mouth-watering delights and diverse offerings of this lively marketplace.
History and growth of the market
The market in question has undergone significant historical changes that have contributed to its steady growth. With buildings dating back to the early 1900s, the market was initially a trading center for locals before becoming an international destination. Its continued expansion saw an increase in product offerings, adding gourmet and exotic foods, butchers and flower shops. The market's historical significance is shown by its place on Amsterdam's top attraction lists.
Given the long history of this market, tourists should prioritize visiting sites like NEMO Science Museum or Verzetsmuseum to learn more about Amsterdam's cultural past. Alternatively, they can opt to take part in guided tours that offer access to areas few visitors get to see, such as behind-the-scenes trips into local shops and eateries. A guided bike tour around Amsterdam East is another way people can explore the city's rich heritage.
Finally, the flavors and vibrant dining experiences at Albert Cuyp Market are not to be missed by food enthusiasts. A shopping spree at this market will leave you with fresh culinary treats from all around the world; From Mediterranean olives to Surinamese roti, as well as affordable Dutch street food favorites such as poffertjes (fluffy mini-pancakes).
Experience a global gastronomic journey at Albert Cuyp Market — where the spices are hot and the herring is raw.
Produce and cuisine from all over the world
Discover a diverse range of culinary delights from across the globe at the Albert Cuyp Market. Indulge in fresh produce and savor authentic cuisine, all in one place.
| Region | Produce | Cuisine |
| --- | --- | --- |
| Asia | Bok choy, tofu, exotic fruits | Sushi, pad Thai, ramen |
| Middle East | Spices, dates, olives | Hummus, falafel, kebab |
| Africa | Nuts, dried fruit | Tajine, couscous |
Expand your palate with unique offerings from regions such as South America and Europe. Take in the rich history and evolution of this iconic market while immersing yourself in a world of flavor.
Don't leave Amsterdam without experiencing the vibrant energy that abounds here – take a stroll through Albert Cuyp Market and explore all it has to offer. Visit Dam Square for a royal palace, a national monument, and the chance to take a selfie with a wax version of your favorite celebrity – what more could you ask for?
Dam Square
Amsterdam has long been a top travel destination in Europe, and one of its most iconic landmarks is the historic Dam Square. Located in the heart of the city, this central hub has been the center-point of Amsterdam since the 15th century.
As you explore the bustling square during a visit to Amsterdam, you couldn't help but admire the stunning architecture of the picturesque Royal Palace and the National Monument honoring lives lost in combat. Additionally, you'll  find that Madame Tussauds and Nieuwe Kerk Church were also located in the square.
Center-point of the city since the 15th century
For centuries, a geographical location has served as the center-point of Amsterdam. This historical landmark is a testament to the long-lived culture and heritage of the city since the 15th century. With several iconic landmarks surrounding it, this central spot is a true representation of Amsterdam's rich history and traditions. From the picturesque Royal Palace and National Monument honoring lives lost in combat to Madame Tussauds and Nieuwe Kerk Church, this area provides an insight into Dutch royalty and civic life.
Overall, this iconic landmark represents not only Amsterdam's past but also its vibrant present, making it a top destination for travelers looking to dive deep into Dutch culture and customs. Step into royalty's shoes and experience the opulence of the Picturesque Royal Palace in the heart of Amsterdam.
Picturesque Royal Palace
Located in the heart of Amsterdam, the historic and grand architecture of the royal palace is an unparalleled sight. The 'Picturesque Royal Palace' is one of the most iconic landmarks in Amsterdam, serving as the official residence of King Willem-Alexander.
The palace stands out with its breathtaking interior featuring a vast collection of antique furniture, paintings, and chandeliers that add to its beauty. The 'Picturesque Royal Palace' possesses great historical significance as it was initially built in the 17th century as a town hall before being transformed into a royal residence by King Louis Bonaparte in 1808.
Moreover, visitors can appreciate various exhibitions showcasing its rich history and heritage while wandering through its spacious halls.
Don't miss out on this architectural wonder nestled amidst one of Europe's top travel destinations. A visit to Amsterdam would be incomplete without exploring the stunning 'Picturesque Royal Palace.'
Madame Tussauds and Nieuwe Kerk Church
One of the prominent tourist attractions in Amsterdam is the Madame Tussauds and Nieuwe Kerk Church. Madame Tussauds, located in Dam Square, is a wax museum featuring life-size models of famous personalities from across the world. The museum boasts realistic depictions of celebrities, sports icons and historical leaders, making it an exciting spot for visitors. Nieuwe Kerk Church, only a few steps away from Madame Tussauds, was built during the 15th century and remains an essential part of Dutch history. The church has hosted various royal ceremonies over the centuries and now features an exhibit showcasing Netherland's history through art.
Apart from being two separate sites to visit in Dam Square, there are further reasons why tourists should not miss out on them. Madame Tussauds exhibits continue to change as new celebrities emerge globally. Nieuwe Kerk Church often hosts events like jazz concerts that add a dose of entertainment to any visitor's itinerary.
Interestingly enough, it is believed that French soldiers who were stationed near Dam Square during Napoleon's reign used Nieuwe Kerk Church for cavalry training as it was one of the largest churches in Amsterdam at that time.
Take your sightseeing to new heights at A'dam Lookout with breathtaking views and the exhilarating Over the Edge swing – just make sure you don't lose your lunch!
A'dam Lookout
Observation deck on the 20th floor with 360-degree views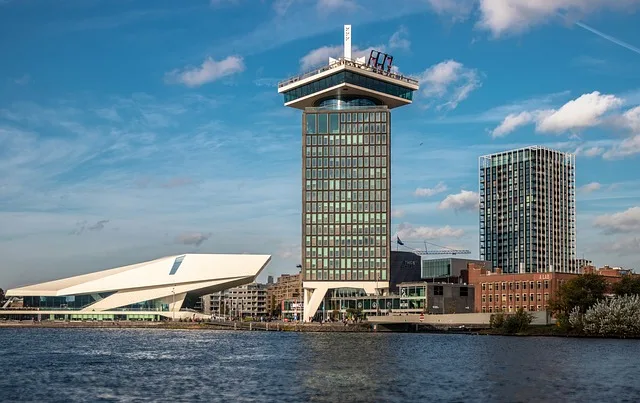 Located on the 20th floor, visitors can experience panoramic views of Amsterdam from an observation deck. The stunning bird's eye view exhibit offers visitors the chance to see all around Amsterdam through a full 360-degree perspective, while witnessing the city's vivid skyline.
The observation deck on the 20th floor with 360-degree views is one of Europe's most astounding tourist attractions. Aside from its excellent and panoramic vistas of Amsterdam City, it allows visitors to gaze at the city in detail and enjoy an excellent thrill that will awe them.
In addition to being a great tourist attraction, the observation deck has served as an inspiration for photographers and artists to capture unique snapshots of Amsterdam city from a different angle.
This magnificent landmark was designed by famous architects in Amsterdam City who used the latest technology in its construction to give it an aesthetic appeal that stands out among other attractions in Europe.
Get ready to swing to new heights and experience a thrill like no other at Europe's highest swing, the Over the Edge attraction.
Over the Edge attraction as Europe's highest swing
Located on the 20th floor of A'dam Lookout, there is an attraction that has been named as the highest swing in Europe – Over the Edge. Visitors can experience a thrilling ride as they swing over the edge of the observation deck at a height of approximately 328 feet above ground level.
The swing attraction offers a once-in-a-lifetime experience, and visitors are strapped securely into a seat, allowing them to enjoy spectacular views of Amsterdam while feeling like they are flying through the air. It's an exciting way to see the city as visitors feel weightlessness while soaring over Amsterdam's iconic canals.
What makes this experience even more memorable is that it doesn't just offer exhilarating thrills for adults but also provides family fun as it is open to those aged ten or older, making it an excellent activity for families traveling with older children.
For a truly unique view of Amsterdam and an unforgettable thrill ride, Over the Edge attraction as Europe's highest swing is a must-visit when traveling to this beautiful city.
Spend a night inside A'dam Lookout in Sir Adam hotel
If you're feeling lofty, head up to Madam and Moon for a meal with a view at A'dam Lookout.
Renowned restaurants Madam and Moon on the 20th and 19th floor
High up on the 20th and 19th floor of A'dam Lookout, visitors can indulge in exceptional dining experiences at two renowned restaurants. Madam offers a panoramic view of Amsterdam's skyline complemented with contemporary cuisine while Moon provides elegant dining under an innovative revolving roof amidst stunning sunset views.
Both the restaurants hold a reputation for being among the finest dining establishments in Amsterdam, serving exquisite dishes made from premium ingredients by expert chefs. This makes them perfect for couples to enjoy romantic dinners, friends to celebrate special occasions or colleagues to host corporate events.
The interior décor of both restaurants is top-notch, with curved glass walls and chic furniture adding to the overall refined ambiance. Guests can also delight themselves in savoring a wide range of signature cocktails that can make their visit even more pleasurable.
Pro Tip: It is strongly recommended that visitors reserve their table in advance to avoid disappointment as these venues tend to fill up quickly due to their popularity.
Explore the haunting reality of Nazi occupation at Verzetsmuseum, with informative exhibits and first-hand insight into the city's history.
Verzetsmuseum
Reflections on the Nazi occupation of the Netherlands
The museum named Verzetsmuseum offers an in-depth reflection on the Nazi occupation of the Netherlands. This museum allows visitors to explore this tumultuous time through historic artifacts, film and sound fragments for first-hand insight. The audio guide also provides valuable information for each exhibit, giving context to the items on display.
In addition to well-curated exhibits, Verzetsmuseum's interior is structured in a manner that fosters contemplation and introspection, providing a unique experience that encourages contemplation and a deeper understanding of history.
Verzetsmuseum offers numerous experiences: from experiencing Nazi-era propaganda materials to learning about heroic acts of resistance by everyday citizens and Freedom Fighters during WWII. Visitors can explore how Nazi policies affected Dutch Jews and how they were separate from the rest of society by viewing confiscated possessions and personal accounts from survivors of concentration camps.
To further enhance appreciation of this period, guests can attend specialized literary events within the museum where authors speak on their works related to the war or take part in educational programs for young students.
Verzetsmuseum aims to engage its visitors through various means such as interactive displays, exhibitions with dramatic lighting or multimedia effects, and digital re-enactments that depict significant events from this turbulent era.
Get the inside scoop on Nazi occupation at the Verzetsmuseum with an audio guide that puts you right in the midst of the action.
Audio guide for informative exhibits
The exhibits at the Verzetsmuseum in Amsterdam offer visitors an interactive experience with an audio guide for informative exhibits. The guide aids in presenting historical artifacts, film, and sound fragments that provide first-hand insights into the Nazi occupation of the Netherlands during World War II. The informative audio guide enables patrons to reflect on this horrific period in history through rich storytelling that evokes somber emotions befitting such a subject.
The audio guide for informative exhibits at Verzetsmuseum offers visitors various language options while presenting content in an accessible manner with useful links to sources. This option allows even novice learners to gain a deeper understanding of the events surrounding Nazi occupation across the country 80 years ago.
The Verzetsmuseum is unique in its well-curated exhibits, grounded accounts without bias, and highly sophisticated storytelling methods relied upon to convey information effectively. Visitors will explore artifacts and sound clips from both Jewish and non-Jewish communities that help to evoke emotion and contextualize history within local socio-political settings.
It is interesting to note that the museum frequently rotates and borrows artifacts from other museums worldwide throughout the year.
Step back in time and immerse yourself in the rich history with artifacts, film, and sound fragments at the Verzetsmuseum.
Historic artifacts, film and sound fragments for first-hand insight
This attraction provides visitors with an opportunity to personally engage with the past through historic artifacts, film and sound fragments for first-hand insight. Travelers can gain a unique perspective of life in the Netherlands during historical times through these preserved relics. Coupled with a guided audio tour, visitors learn about the stories behind each artifact and understand how they fit into society at that point in history.
For instance, memorabilia from World War II is displayed along with vivid descriptions of soldier experiences, accompanied by accounts of local civilians' lives during wartime activities. There are also personal video recordings from people who lived during those hard times. All these collections form a vast archive of documents that connect travelers with the city's turbulent past.
In addition to understanding WWII history presented in other tourist attractions around Amsterdam, this particular exhibit provides priceless views of the war experience from another angle; it offers context from locals' experiences and may stimulate reflection on one's own place within historical contexts. Visitors are inspired to consider the unique situations facing those in countries affected by wars and crises after visiting this exhibit showcasing historic artifacts, film and sound fragments for first-hand insight.
Get ready for a contemporary art experience unlike any other at Stedelijk Museum Amsterdam.
Stedelijk Museum Amsterdam
Contemporary art gallery with permanent exhibits
Located in Amsterdam, there is a contemporary art gallery with enduring exhibitions showcasing impressive works. The museum collects and exhibits art, including paintings, sculptures, and installations from renowned artists worldwide. Furthermore, the museum's permanent collections are exceptional for their quality and diversity that portrays the current trends in contemporary art.
Some of the significant artists whose masterpieces feature in this museum include Andy Warhol, Piet Mondrian, Francis Alÿs, Marlene Dumas, Jeff Koons amongst others. In essence, the museum appeals to art enthusiasts looking forward to broadening their knowledge of contemporary art through permanent exhibitions of remarkable quality.
Visitors will enjoy top-notch artwork that sends a message full of meaningful information on diverse topics. They will have an opportunity to interact with tangible pieces that evoke emotions that would help them deepen their appreciation for arts and culture.
Get lost in artistic impressions as you make your way to this famous contemporary art gallery with permanent exhibits located at the heart of Amsterdam. Whether you're an artist or not- immerse yourself in creativity as you witness some of the world's most fascinating artworks at the gallery. Hurry up! Do not miss out on such an incredible experience!
Temporary exhibits at the Stedelijk Museum Amsterdam are like exes – they may not stay forever, but they leave a lasting impression.
Memorable temporary exhibits
Featuring an array of captivating and remarkable exhibitions, the Stedelijk Museum Amsterdam is a must-visit destination for art enthusiasts. Its memorable temporary exhibits showcase diverse themes and narratives that challenge the conventional notion of modern and contemporary art. These exhibits feature works from influential artists from different parts of the world. Some examples include acclaimed American artist Bruce Nauman's pieces, where he blends sculpture with architecture to create new meanings, and the thought-provoking installations by Cuban artist Tania Bruguera, who explores ideas around power dynamics in society. The unique exhibits at Stedelijk Museum Amsterdam offer visitors a rare glimpse into some of the most creative minds in the world today.
Pro Tip: Check out the museum's website beforehand, so you don't miss any upcoming temporary exhibits during your visit.
Get ready to taste Amsterdam's famous beer and experience the Heineken brewing process with a personalized label and 3D ride at the Heineken Experience.
Heineken Experience
As a beer enthusiast and world traveler, I knew that my trip to Amsterdam wouldn't be complete without a visit to the Heineken Experience. This immersive attraction is a must-visit for anyone who appreciates the world-famous Dutch beer. From a brewery tour to designing your own personalized bottle label, this fun-packed experience has something for everyone. Not to mention, the Heineken Experience is home to historic artifacts and even features a 3D ride that takes visitors on a captivating journey through the beer's brewing process. Join me as we dive into the ultimate Heineken Experience in the heart of Amsterdam.
Celebration of the famous beer in its home city
The Heineken Experience is an immersive journey of the famous beer in Amsterdam, with a celebration of its home city's culture and history. It offers a brewery tour, personalized labeling, historic artifacts, and a 3D ride for an exciting experience. In addition, visitors can learn about the beer's production process, from brewing to distribution, taste it fresh from the tap and participate in interactive displays, making it an excellent attraction for tourists.
Unique details of the Heineken Experience include learning about the story behind the iconic green bottle and distinctive logo design associated with the illustrious brand. The visitor also gets access to a VIP bar serving exclusive varieties of beers brewed by Heineken.
Don't miss out on this experience in Amsterdam; enjoy one of Europe's most renowned beers in its hometown city. A trip to Amsterdam is not complete without tasting their famous beer at its heart brewery venue.
Experience Heineken like never before!
Get ready to taste the history of Amsterdam with a fun-packed brewery tour and personalized label at the Heineken Experience.
Fun-packed experience with brewery tour and personalized label
Visitors to the Heineken Experience can indulge in a thrilling and interactive experience, exploring the rich history of the famous beer's production in Amsterdam. This journey is packed with a tour of the brewery and a chance to personalize your label.
The fun-packed brewery tour offers an unforgettable experience for visitors
Enjoy personalized labels on bottles that make for a great souvenir
Take home memories with you by engaging in various activities offered during the visit.
For added interest, historic artifacts and a cutting-edge 3D ride have been carefully integrated into this unique exploration.
A true fact – According to 'AMSTERDAM: The Top Travel Destination in Europe,' Heineken hosts about one million visitors annually.Experience the past and present of brewing at Heineken Experience, where historic artifacts meet a futuristic 3D ride.
Historic artifacts and 3D ride
This attraction is a must-see for beer enthusiasts as it offers an immersive Heineken Experience that includes a brewery tour, personalized label, 3D ride and various historic artifacts. Visitors can indulge in the brand's iconic history through interactive exhibits with video presentations and virtual games.
| Historic Artifacts | 3D Ride |
| --- | --- |
| Original copper tanks from 1867 | A state-of-the-art multisensory attraction |
| Vintage advertisements featuring celebrities | Explore the brewing process on an interactive ride |
| Machines from traditional to modern times | Take a virtual journey through time and space |
| Old bottles, glasses and cans from all around the world | Experience the feeling of being brewed into beer |
Visitors can also taste different types of Heineken beers while learning about its ingredients such as water, hops, and barley. The welcoming bar overlooks a canal and provides spectacular views of Amsterdam's cityscape.
While there are many other attractions in Amsterdam, the Heineken Experience stands out with its unique offering – a journey through history intertwined with an unforgettable sensory experience.
Experience a piece of Amsterdam's religious and cultural history at Museum Ons' Lieve Heer Op Solder, where a hidden church from the 17th century is preserved for visitors to explore.
Museum Ons' Lieve Heer Op Solder
As I explored the vibrant city of Amsterdam, a particular destination caught my eye: the Museum Ons' Lieve Heer Op Solder. This unique attraction is part home, part church, and dates back to the 17th century. I was astonished to learn that the Catholic worship practiced at the top three floors was actually banned during this time period. Despite this, the church has been beautifully preserved and offers a fascinating look into the early culture of Amsterdam. I couldn't wait to dive deeper into this extraordinary place and discover its rich history.
Part home, part church from the 17th century
This unique establishment is part home and part church from the 17th century. The Museum Ons' Lieve Heer Op Solder preserves the atmosphere of Dutch Catholicism in hiding during a period when public worship was forbidden. The top three floors bear a clandestine chapel where services were held, while the lower part of the building served as a residence for the faithful. Original furniture, paintings, and religious artifacts add to its authentic charm.
Apart from preserving Catholic history, Museum Ons' Lieve Heer Op Solder provides insights into how people practiced religion away from public view in the past. The museum's educational audio guide takes visitors through historic artifacts, paintings, and ornaments with detailed explanations that enhance understanding. The essence of religious freedom can be felt throughout this unique landmark.
Visitors to Museum Ons' Lieve Heer Op Solder leave understanding better what it meant to practice religion in secrecy centuries ago. This historical landmark is inspiring for anyone interested in learning about religious history.
If you're looking for some taboo excitement, Museum Ons' Lieve Heer Op Solder's banned Catholic worship at the top three floors will definitely give you a thrill.
Banned Catholic worship at the top three floors
In a 17th-century building that was once a home and church, the Museum Ons' Lieve Heer Op Solder holds a preserved church on the top three floors. The unique attraction offers visitors insight into the early culture of banned Catholic worship at the top three floors. The museum presents an impressive interior and experience with original artifacts and exhibits of clandestine religious practices in Amsterdam.
The Museum Ons' Lieve Heer Op Solder provides a glimpse into the history of Catholic worship in Amsterdam by exploring how it was celebrated secretly on the upper floors of homes during the Dutch Republic's Protestant rule. The third-floor chapel includes altars, confessional boxes, and paintings, which trace back to 1663 when its owner remodeled the space to provide an alternative for banned religious services. This historic site ranks as one of Amsterdam's best-kept secrets.
The views from ground level give no indication regarding what's hiding behind this beautiful, characteristic facade featuring gabled windows set along canals lined with typical Dutch architecture. Once inside this elegant house-museum affair stands for some excellent displays outlining what life was like during those heady times with full-scale models depicting different uses such as storerooms, chapels, living rooms, etc.
This establishment joins other destinations like Moco and Stedelijk museums as one of Amsterdam's best cultural landmarks worth visiting while enjoying travelers' activities outside popular destinations like Dam Square or NEMO Science Museum.
Preserved church offering a fascinating look into early culture.
One of the unique experiences that one could have in Amsterdam is to visit a preserved church, which presents a fascinating look into early culture. The Museum Ons' Lieve Heer Op Solder is a part home and part church from the 17th century. The third floor provides insights into how Catholics used to worship during the Dutch Reformation when their practices were banned.
The preservation of this historic building showcases the architecture and décor from the past, offering a glimpse into how life was during those times. Visitors can explore the long halls that lead up to the church on the top floor, where religious ceremonies were held in secrecy.
To learn more about the history and impact of this period, an audio guide accompanies visitors as they navigate through these parts of the building. This enhanced experience provides an educational opportunity for all ages.
For visitors looking to experience something authentic and historic while in Amsterdam, it is recommended that they add Museum Ons' Lieve Heer Op Solder to their itinerary. The preservation efforts allow visitors to see firsthand how religions were impacted by societal and political changes throughout Amsterdam's history.
Five Facts About Amsterdam: The Top Travel Destination in Europe:
✅ Amsterdam has over 100 canals, giving it the nickname "Venice of the North". (Source: Team Research)
✅ The city is famous for its well-preserved 17th-century architecture that provides a unique backdrop for modern, progressive attitudes. (Source: Team Research)
✅ Amsterdam is home to some of the best art museums in the world, including the Van Gogh Museum and the Stedelijk Museum. (Source: Team Research)
✅ Visitors to Amsterdam can explore the city by foot, bike, or boat for easy sight-seeing adventures. (Source: Team Research)
✅ Amsterdam's attractions include colorful flower markets, cannabis-selling "coffeeshops", and the famous red light district. (Source: Team Research)
FAQs about Amsterdam: The Top Travel Destination In Europe
What are the top things to do in Amsterdam?
Amsterdam offers easy sight-seeing adventures by foot, bike, and boat. From the city's fine art museums to its colorful flower markets, from cannabis-selling "coffeeshops" to the red light district, there's something exciting and unique to discover in Amsterdam at every turn. Some of the top tourist attractions in Amsterdam include Adam Lookout, Dutch Resistance Museum, and Museum Ons Lieve Heer Op Solder.
What is the best time to visit Amsterdam?
The best time to visit Amsterdam is during the shoulder seasons of April to May and September to November when the weather is mild and the crowds are thinner. Also, the famous Holland tulips bloom in April, making it the ideal time to explore the city's flower markets.
What are some Amsterdam travel tips?
Some useful Amsterdam travel tips include checking the weather forecast and packing accordingly, using the bike as the preferred mode of transportation, drinking tap water instead of bottled water, and carrying cash since some small shops and restaurants may not accept credit cards.
What are some popular Amsterdam hotels?
Some of the popular Amsterdam hotels include the Hotel Pulitzer Amsterdam, The Hoxton, and The Dylan Amsterdam. Choosing a hotel near the city center would be convenient for sight-seeing and exploring the attractions on foot or by bike.
Is Amsterdam in Holland?
Yes, Amsterdam is located in the Netherlands, which is also known as Holland. Amsterdam is the capital and largest city of the Netherlands, known for its rich cultural heritage and progressive attitudes.
What are some things to do in London and how does it compare to Amsterdam?
London offers a wide range of attractions such as the British Museum, Buckingham Palace, and the Tower of London. However, unlike Amsterdam, London is a vast metropolis and requires more time and effort to explore. The best time to visit London is during the summer months of June to August, whereas Amsterdam's shoulder seasons offer mild weather, fewer crowds, and blooming tulips.