It doesn't matter what type of cook you are, there is no doubt that you want to know how to organize your kitchen the fastest way possible. If you are someone who does a lot of house work before dinner or snacks, then you should have no problem coming up with a good plan for organizing your kitchen. The truth is that most people who use their kitchens, even the super cooks, have problems putting everything back in the order they are in. When you don't have a good system, everything gets mixed up, and you find yourself wasting money on food that you really don't need or buy because you cannot find exactly what you need. Here are some tips to help get your kitchen in order quickly.
Cutlery Drawer Organizer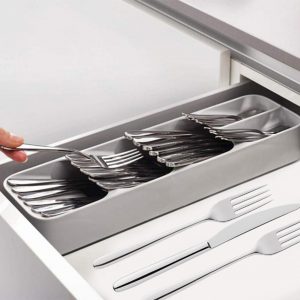 Price: €9.99
This innovative design is such a simple idea, it leaves you questioning yourself why it hasn't been thought of sooner. By angling and layering each section on top of each other, it allows you to store a full cutlery set in less than half the space of a normal cutlery tray.
---
Side Shelf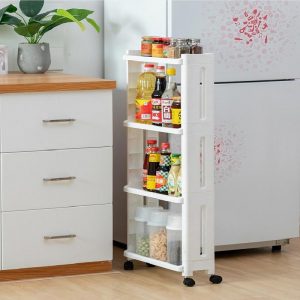 Price: €23.99
The small space in your kitchen between the appliances which you never knew what to do with it? Now that problem is fixed. This side self on wheels is the best solution for the unusable gaps in your kitchen.
---
Kitchen Storage Rack
Price: €16.99
Keep all your kitchen wraps, from aluminum foil to cling film, neat and tidy with an easy way to use. The kitchen towels has a place now. You can store some condiments on top too.
---
Egg Tray
Price: €39.99
Say goodbye to carton egg trays laying around your kitchen. They come full of bacteria's which you cannot get rid of. The best way to store your eggs is in this handy egg tray storage.
---
Reusable Mason Jars
Price: €17.99
Save space with those reusable mason jars. Perfect for all small products like nuts, condiments or left over sauces. Those reusable mason jars comes in handy for every kitchen storage.
---
Pot Rack Organizer
Price: €19.99
This pot rack organizer not only stores your pans but makes your kitchen looking neat and tidy. With its minimalistic design, this pot rack organizer it's a must-have in every kitchen.
---
Magnetic Fridge Storage Box
Price: €6.99
For all your small items like scissors, block notes, shopping lists, this magnetic storage box for your fridge will come in handy in every kitchen.
---
Food Storage Container
Price: €14.99
Store your dry foods like pastas and biscuits in those high quality, see-thru containers. Those food containers are perfect for flours, sugars and more.
---
Lid Storage Rack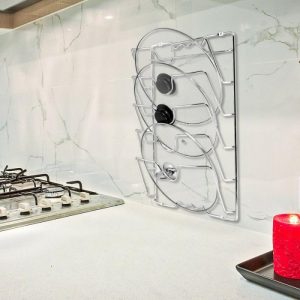 Price: €29.99
Organize your pan lids easy and simple. You can hang the lid rack on any door or on the kitchen wall. The best solution to reduce lids clutter and save space.
Recommended article: Valentine's Day Gifts Ideas For For Her
---
Spices Organizer
Price: €49.99
An organizer which cannot miss in any cook's kitchen. This spices organizer will make your spices look fancy and will organize your spices in your kitchen cabinets.
Check here for more Kitchen Organizer Tools