Malaysian food is a culinary treasure trove that showcases the unique culture and diverse culinary traditions of Malaysia. Malaysian cuisine combines influences from various Asian regions, including India, China, Thailand and Indonesia. Malay food, similarly, draws on influence from India, Sri Lanka and the Peninsula. Malaysian cuisine largely incorporates regional cooking practices and customs found in Malaysia, reflecting the multi-cultural makeup of its population.
Nasi Lemak
The staple food every Malaysian eats and is fond of is Nasi Lemak. It is a comfort food that everyone simply loves in this area and is a fragrant rice dish with a variety of accompaniments, cooked in coconut milk. Rice cooked in coconut milk with pandan leaves, or screw pine, typically served with sambal, a paste made from anchovies and chili, cucumber, peanuts, and often even served with a hard-boiled or fried egg, is usually included in the whole dish. Vegetarian option is available as well. Nasi Lemak can be found anywhere in Malaysia and costs very little +/- 0.50 USD.
Read also: The best reasons why you want to live in Bangkok
Bak Kut Teh
Bak Kut Teh, cooked in broth, is a pork rib dish that is very popular in Malaysia and Singapore and it traces its roots to the group of Hoklo and Teochew, who made it common in this region. The meaty pork ribs are simmered for hours in a broth with many herbs and spices such as cinnamon, star anise, cloves, garlic and fennel seeds. Although a part of the name is the word Teh (meaning tea in Malay), there is no tea in the dish – the name simply refers to a strong Chinese oolong tea that is typically served alongside the soup. It is assumed that this soup dissolves the fat present in this pork-dish.
Satay
A notable Malay dish that has made its way into Malaysian dining circles is the popular Satay, or charcoal-grilled chicken or beef. Satay is a popular street food made from seasoned and grilled, skewered meat. A distinct blend of lemongrass, turmeric and other local spices is marinated in the beef. Satay is usually served with some delicious chunky peanut sauce and a dollop of spicy sambal occasionally, so when you bite into a slice, you feel the burst of flavor in your mouth! At the night markets that pop up during the different days of the week, you can eat delicious satay. The word "satay" means "grilled meat" in Malaysian, but like most ethnic cuisines, it has a variation that caters to individual tastes
Cendol
Cendol, available in Southeast Asia, is a popular dessert. Mixed with palm sugar and coconut milk, it is made from rice flour and a few other components. In Indonesian, the worm-like rice flour jelly is supposedly referred to as "jendol" and that is how it got its name. At roadside stores or in fancy restaurants, people just love this fascinating meal. Every area in Malaysia has its own version of Cendol, which makes it even more special.
Laska
Laksa is a spicy noodle soup popular in Southeast Asia's Peranakan cuisine. Laksa consists of thick wheat noodles or chicken, prawn or fish rice vermicelli, served in a spicy soup based either on rich and spicy coconut curry milk or on sour asami milk (tamarind or gelugur). Laksa is found in Indonesia, Malaysia, Singapore and in southern Thailand (where it has its own Katong laksa variant).
Roti Canai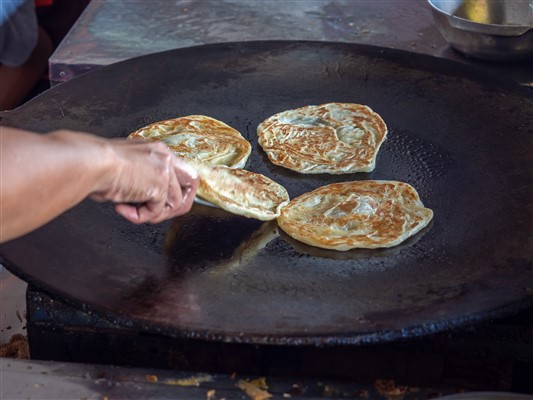 In Malaysia, there are two items you have to eat: nasi lemak and roti canai. Roti canai is a flatbread/pancake inspired by Indians. It's made with a lot of oil and butter, so it's soft and flakey. And on the outside, pan frying gives it a crispness. You can get it with just about every filling imaginable, like egg, onion, cheese, etc., you can get it and it's usually served with dhal (lentil soup) and curries.
Recommended article: 12 most important things you need to know before going to Thailand
Chee Cheong Fun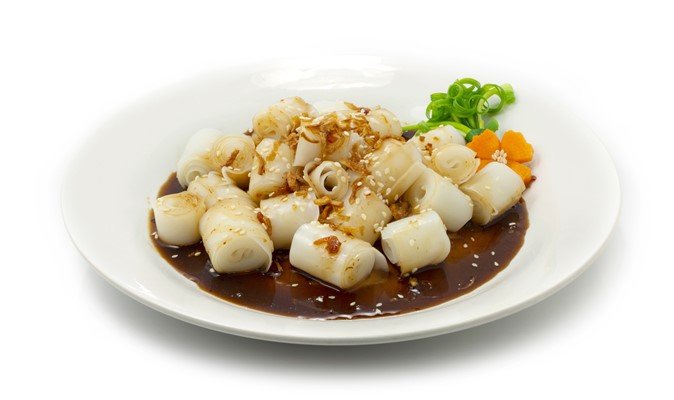 Originally a Cantonese dish belonging to Southern China and Hong Kong, Chee Cheong Fun is still popular in Malaysia. Perfect as a hearty breakfast or a satisfying mid-day Malaysian snack, this rice noodle dish is a must-have for its simple but flavourful offering on any Malaysian street-food list. Although similar but distinct from the rice-noodle rolls sold at dimsum stalls, in a dark sweet shrimp sauce with some chilli sauce, this one uses thick rice noodles.
Hokkien Mee
It might not look like much, but don't let you be fooled by appearances. This is a simple but very delicious dish and an absolute flavor blast. Traditionally, Hokkien Mee consists of thick yellow noodles, wok-fried in a thick dark soy sauce with a mixture of pork, squid, fish-cake and cabbage, and a garnish of crispy fried pork lard… an essential characteristic for some wickedness and crunch.
Read also: Top 10 Best Products for the Most Organized Kitchen