Oxford Street is the busiest shopping street in Europe, with more than 200 million visitors per year and London's most popular shopping district. Although Oxford Street is wide known for its expensive shops, you don't necessarily need a lot of money to have a good time in most Oxford Street shops.
For centuries, Oxford Street was one of the most important arteries in London's West End, with its origins dating back all along the Roman era. This 1.5 mile long street was called "Tyburn" in the Middle Ages, and it is the main road that leads from London to Oxford. It runs east of Tottenham Court and west of Marble Arch Station.
In earlier years the street was bordered by small traders who sold merchandise but today more than 300 retailers from high end stores, distributors' chains and designer outlets have evolved.
The most famous of Oxford Street's many stores is none other than the world-renowned Selfridges, which was founded by the American businessman Henry Gordon Selfridge in 1909. With over 10 ha of shopping space which occupy an entire block of Oxford Street, Selfridges is the second largest store in London after Harrods, and has been coined as "an extraordinary temple of the retail business" thanks to its neoclassical columns and fascinating architecture of its main entrance.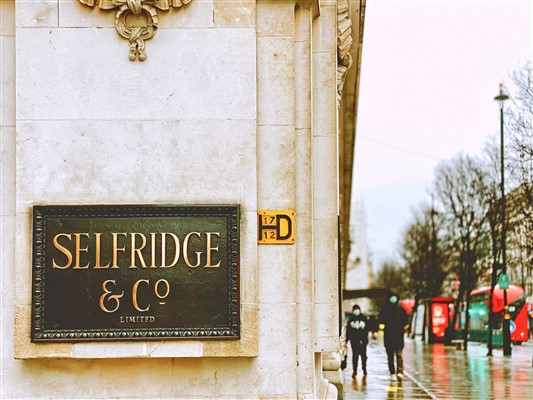 Whatever season in the year you decide to visit, Oxford Street is expected to be packed full of locals and visitors with shopping bags, but it really is during Christmas time that the street comes alive, since it is lined with all kinds of Christmas decorations that are lit up at night, giving the view a real glimmer.
The stores which attract more than 200.000 visitors weekly and walking between one end of the road and the other, you can visit stores such as Marks & Spencer, Debenhams, House of Fraser and John Lewis. And of course your tour can't be considered complete without browsing the Selfridges on 400 Oxford Street, with six floors, 11 restaurants and fast foods and hundred thousands pieces of fashion items.
The shops selling consumer electronics and the smaller department stores can be found mostly towards Tottenham Court Road, while the bigger ones can be found between Marble Arch and Oxford Circus. Next, American Apparel and Topshop kind of store are located from Oxford Circus to Tottenham Court Road and H&M and Zara like stores you can find them between Oxford Circus to Bond Street. Marks & Spencer, New Look, Primark, River Island, and Selfridges are on Marble Arch to Bond Street while books and musical instruments are to be found on Denmark Street and Charing Cross Road.
Read also: Shopping in London
If you feel like doing some sightseeing during your visit to Oxford Street, Marble Arch (to the west) is a famous London landmark in its own right, and was once a place of public execution from 1388 until 1793. Hyde Park is less than a two-minute walk away from Marble Arch, and you can easily walk to the Princess Diana Memorial Fountain, Speakers' Corner and the Serpentine Lido before your visit to Oxford Street as well.
A famous landmark is located on Oxford street and that is the place of public execution which ended on 1793. This if you want to take a break of your shopping spree and entertain yourself with some cultural tourist attraction. This landmark is next to the Madame Tussauds wax museum who offers taxi rides thru city's old stories with a drink bar for adults and a Marvel Super Heroes 4D mini-movie experience for kids.
Tips to know before visiting Oxford Street
1. If traveling by car, book upfront your parking spot in the Q-Park Oxford street and you will get a nice discount
Outside seasons the hotels around Oxford Street offers good discounts
2. Book a Private Tour: Chauffeur Driven London Shopping Trip (Oxford Street included)
3. Be aware that the region is susceptible to pick-pockets, so always keep an eye on your belongings, especially during the busier times.
4. There are plenty ATMs all over the Oxford Street and surroundings.
5. Toilets are limited. You can find it on ground floor of Topshop and at Mark & Spencer. 
Openings times:
Monday to Friday, 9 a.m. to 9 p.m.
Thursdays, 9 a.m. to 10 p.m.
Saturdays, 9 a.m. to 9 p.m.
Sundays, 12 p.m. to 6 p.m.
How to get to Oxford Street
Address is: Oxford St, London W1B 3AG, United Kingdom
Get to Oxford street by tube: Get off at Bond Street, Piccadilly Circus, Oxford Circus, Tottenham Court Road or Marble Arch.
Get to Oxford street by train: Closest train station is Paddington.
Get to Oxford street by bus: The busses numbered 3, 6, 8, 10, 12, 13, 15, 23, 25, 53, 73, 88, 94, 98, 113, 137, 139 and 159 brings you at Oxford Street.